Features
Features: Overview
Hawkeye Loft Management System
For more information, select from the specific items below.
---
---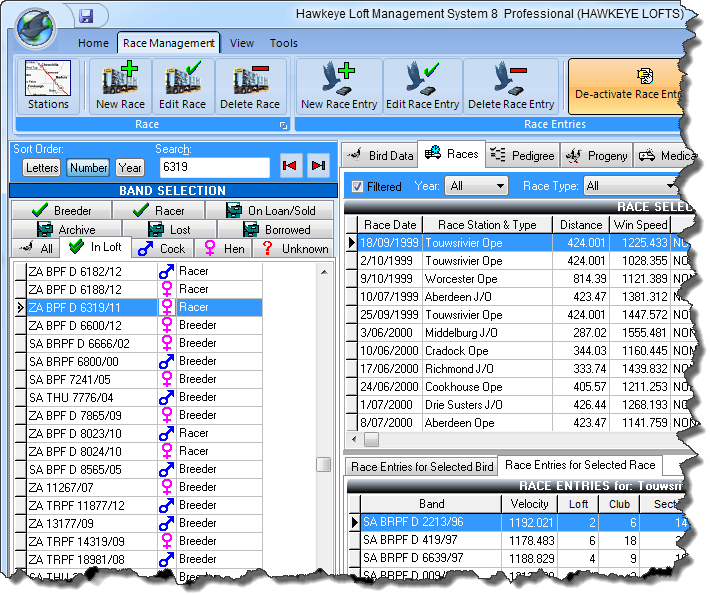 Hawkeye is state of the art racing pigeon software, making use of menus, speed buttons, and wizards. Software development commenced in 1990 with the first version released to the public in 1992. Always looking to enhance the product, Comproware continually tests and improves new features with feedback from the racing pigeon community, in conjunction with the latest in IT technology.
Technical Specifications:
Hawkeye can handle a substantial amount of data. Under Windows 2000, NT, XP and Vista, Hawkeye can store in the order of a billion records of pigeons, a billion race records, medical records, etc.
Supported platforms: Windows 2000, XP and Vista
Metric and Imperial support
Data Captured:
Pigeon data

Band - Union, Letters (Prefix), Number and Year.
Second Band for double-banded birds.
Fully configurable Color and Strain.
Fully Configurable Status - Racing, Team A, Team B, Young Bird, Young Team A, Breeding, Archive, On Loan, etc.
Two JPEG images for each bird, e.g. Body and Eyeshot, etc.
Sire and Dam.
Name (Alias).
Remarks - As many comments as you wish can be stored.
And much more.
Race Stations (Points)

Distance - can automatically be calculated from GPS Longitude and Latitude coordinates.
Longitude & Latitude.
Weather conditions.
Training Toss or actual race.
Times & Dates - Liberation, Clocks Set, Checked, etc.
Winning velocity - Loft, Club, Fed, Union, Combine (last 3 can be changed to whatever the user prefers).
Race Records

Time, Velocity
Position earned - Loft, Club, Fed, Union, Combine (last 3 can be changed to whatever the user prefers).
Points earned: Loft, Club, Fed, Union, Combine (last 3 can be changed to whatever the user prefers).
Remarks
Import from TauRIS E-Clock File
Import from Winspeed Merge File.
Breeding Records.
Medical/Vaccination Records.
Self-learning Disease System.
And much more.
Capabilities:
All Reports and Pedigrees can be exported to PDF, HTML, TIFF, JPEG, PNG, BMP, Word (RTF) or Excel.

4 Pedigree styles, color, with pictures, some with user defined logo.
Bird Hereditary Report.
Progeny Analysis - Progeny, Half Brothers and Sisters, Full Brothers and Sisters, Grandchildren.
Pigeon Summary Report.
Race Station Report.
Race Results - Grouped by station or bird.
Progeny Report.
Performance Report - Performance analysis.
Race Entry Form - Make your own custom race entry form, or use an existing form.
Print out breeding cards for the loft.
Bird checklists for use when medicating, etc.
Pigeon Filter System - Hawkeye has a powerful filtering system. You can sort by a variety of criteria.
Sorting - Sort by letters, numbers or years.
Band Management - Add all purchased bands beforehand and assign them as required.
Group Save - Combine any birds together, i.e. Sale Birds and recall them with the click of a menu item.
Status Tabs - Hawkeye can organize your pigeons in many different ways through the use of status tabs. Possibilities include: In Loft, Young Birds, Archive, Cocks, Hens, etc. (These can work in conjunction with the pigeon filter system.)
Graph Analysis - Distribution analysis on Color, Strain, Year, Owner, etc.
Speed Calculator - Taking into consideration clock win/lose time, etc.
Distance Calculator - Based on longitude and latitude (WGS84 ellipsoid)
Year Planner - Global view of race dates. Race stations can be added from here
Telephone and Contacts directory
Symptom Searchable Disease System - User can build up a database of possible diseases, symptoms, treatment, preventative treatment, etc.